Winner by random draw is
pnelson6915@gmail.com
Thank you to everyone else who stopped by, I really appreciate your support!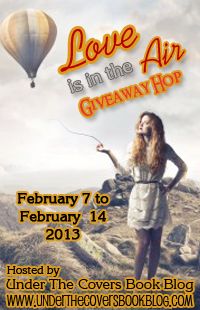 Love Is In the Air Blog Hop
Hosted by Under the Covers
THE NITTY GRITTY
Blog hop runs from 12:01 AM February 7th through to 11:59 PM February 14th, 2013.
You must include your email address for notification purposes if you win. Entries without email addresses will be disqualified.
Prizes must be claimed within seven days (by Feb. 21) or are forfeit.
Winners will be announced on this page and notified by email on Feb. 15th.
Physical prizes are US only. E-books, gift cards, etc. are international.
The Sweet Talk
It has come to that time of year again –
Valentine's Day.
It is a time for the bad poetry and naughty underwear to be dusted off and put to use.
But if you want more than just barely-there underwear and a few sonnets,
how about a sexy romantic book to get you in the smooching mood?
Join us in our Love is in the Air blog hop for a chance to win
and make your Valentine's Day perfect
!
.Book Related prizes....
I have just the thing!
Designed by the fabulous
Freia Inguz
, especially for the season...
Plus, a collection of M/M romance Paperbacks Including....
Encounter
Variety is the spice of life- here's a collection of short stories to heat up your day.

Encounter: A nervous wannabe actor slips away to steal a smoke at an audition and finds more relaxation than he expected.

Finding Justice: When Justice figures out his boyfriend considers him nothing more than a piece of ass on the side, he takes matters into his own hands.
Nick
: Insecure nurse Nick discovers something about his rock star boyfriend he just can't forgive.
Loving Jacob (insert pic)
When Malcolm Jenner's sex-on-the-side turns into more, he isn't above begging for a second chance.
Malcolm is looking for a bit of fun, nothing serious. He's got duties and responsibilities, after all. He doesn't usually choose his lovers from the office, but his attraction to Jacob Renault is too compelling to resist.
However, Jacob isn't interested in temporary. He wants it all, Prince Charming the castle, the happily ever after. There's no rule that says he can't have fun while he's searching for his prince though.
At first neither is willing to compromise their stance, but an agreement is reached, with each man planning to do his best to subvert the other to his viewpoint. Lust turns to love, and what's impossible becomes merely improbable, but is it going to be enough?
Like that taste? Want to see more of how our heroes reached this point?
The Librarian
Valentine Michaels has just taken a vow of celibacy. Adrian Grey intends to take full advantage of that vow to re-create his relationship with Val.
Val is at a crossroads in his life. A college dropout, he's gone as far as he can in his career as a cosmetologist, owning his own style salon. He no longer finds satisfaction in it, though he's put years into proving to his bigoted parents that a college degree and the veneer of straightness aren't the only roads to success. They'd turned their backs on him, and he proved he didn't need them to make it.
His love life is no better than his working life. His relationships always start with a bang and fizzle into boredom, or worse, anger.
Adrian
has his own agenda for helping Val: he's been in love with Val since they were freshmen. The intervening years of listening to Val's gossip about his lovers and relationships have taught Adrian just what it was he did wrong all those years ago, and he thinks this time around he now knows exactly how to get—and keep—his man.
Just leave me a comment below with
a.
your email address( for notification purposes)
b.
your idea of a perfect Valentine date
c.
Alternatively- a decadent treat you enjoy spoiling your loved ones with on special days...
Click on over to the other participating blogs via the linky thingy.
Sometimes, linky thingies don't work- so here's the link to the master blog.